Published: Tuesday, May 30, 2017 02:12 PM
Stadelman conducts June 20 clinic to help consumers reduce utility bills

State Senator Steve Stadelman has invited experts from the Citizens Utility Board to conduct a free clinic where local consumers can learn ways to reduce their gas, electric and landline telephone bills.

"With the official start of summer upon us, many of us are bracing for the heightened cost of keeping our homes cool," said Stadelman, D-Rockford. "This workshop offers a chance to learn about all the cost-savings options that are available."

CUB advisors will offer one-on-one analysis of gas, electric and landline phone bills, information on spotting billing errors and incentives designed to help people improve energy efficiency.

UTILITY BILL CLINIC
When: 5-7 p.m. Tuesday, June 20
Where: Rockford Public Library, Montague Branch – Constance Lane Room, 1238 S. Winnebago St.
Register: (312) 263-4282 ext. 111 or citizensutilityboard.org (subject line "Rockford 6/20")

Refreshments and free CFL bulbs are being provided. Consumers are encouraged to call or email to secure an appointment, but walk-ins are welcome and will be seen on a first-come, first-served basis.

Bipartisan resolution honors Lady Golden Eagles for national four-peat

Senator Steve Stadelman and four other Rockford-area lawmakers representing both political parties and both chambers of the Illinois General Assembly signed a resolution honoring the Rock Valley College girls softball team for its fourth consecutive National Junior College Athletic Association championship victory. The framed resolution was presented to Coach Darin Monroe at a celebration at RVC this week.

RVC set an NJCAA record for most back-to-back title wins by defeating Suffolk County (NY) Community College in 20-0 game that allowed the Lady Eagles to close the season without allowing a single run.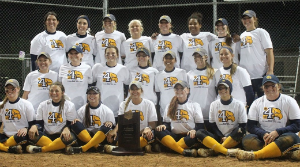 Stadelman backs bill to promote diversity in awarding state contracts

State Senator Steve Stadelman voted in favor of a proposal to attempt to increase the number of minority-owned, female-owned and veteran-owned businesses that receive contracts from the state. Senate Bill 262 would require companies that do business with the state to submit yearly reports outlining any minority-owned firms to which they award contracts. Having won Senate approval, the legislation is now pending in the House.







Category: Week in Review