Published: Thursday, June 22, 2017 02:29 PM
With 10 days left in fiscal year, governor calls special legislative session

More than three months after he called Republicans off a promising budget compromise in the Illinois Senate, Governor Bruce Rauner has called lawmakers in both chambers to Springfield for a special legislation scheduled to last until the start of the new fiscal year July 1.
Senate leaders from both parties began working in late 2016 on bipartisan to balance spending along with numerous government and ethical reforms. Five bills in a 12-bill package had been approved and the remaining seven were expected to pass March 1 when Rauner abruptly told Republicans to abandon the process.
Now, weeks later and well after the May 31 deadline to adopt a budget by a simple majority vote, the governor is ordering lawmakers to return to the Capitol at an estimated cost to taxpayers of $48,000 a day or $480,000 over the 10 days remaining in FY 17, the second without a budget.
"The blame game needs to stop," Stadelman said. "Finger-pointing doesn't get us any closer to ending this impasse, which is hurting our most vulnerable citizens and frustrating all of them."
Stadelman-backed bail reform measure signed into law

Thanks to a new law supported by Senator Steve Stadelman, people who aren't a threat to their communities won't languish in jail because they can't afford bail. The Bail Reform Act of 2017 took effect immediately after receiving the governor's signature earlier this month.
Stadelman praised the legislation for allowing courts to assess flight risk and public safety rather than focus on a defendant's ability to pay when deciding pretrial releases.
Senate Bill 2034 grants a number of rights to defendants including the right to a public defender or attorney at their bail hearing, the right to a new bail hearing, the right to non-monetary bail and the right to have courts address risk in the least restrictive way possible.
Residents find savings on utility bills at Stadelman clinic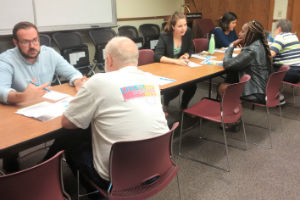 Experts from the Citizens Utility Board analyzed people's gas, electric and telephone bills and recommend ways they could reduce their monthly costs during Senator Stadelman's Annual Summer Utility Bill Clinic this week at the Rockford Public Library-Montague Branch. Stay tuned for information on a workshop this fall where a CUB representative will discuss how to navigate the confusing world of broadcast and web-based entertainment and news options.
Category: Week in Review