Published: Tuesday, August 15, 2017 02:18 PM
Local Superintendents: Override Rauner on school funding reform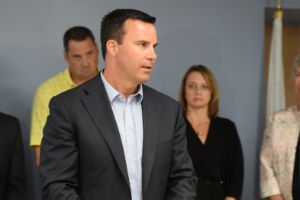 Area school superintendents joined forces for a news conference Friday to urge state lawmakers to override Gov. Bruce Rauner's "amendatory" veto of legislation to make education funding fair in Illinois. They said the effort to reform the way Illinois distributes money to schools, considered the most inequitable in the nation, has waited too long and come too far to fail now.
Senate Bill 1 would award money to schools on an evidence-based formula that shifts the burden away from local property taxes and levels the playing field between wealthy and poor communities. Rauner's veto of the legislation caused the state to miss payments to schools this week, a first in Illinois history.

"The cost of delay is unacceptable," Rockford School Superintendent Ehren Jarrett said. "Senate Bill 1 is right for Illinois and right for Rockford public schools. I feel that unequivocally."
Among the flaws in Rauner's rewrite of the legislation, Jarrett said, is its failure to account for revenue lost in communities with Tax Increment Financing. With 34 TIF districts in Rockford, Jarrett estimates the loss to public schools at well more than $1 million annually.
Jarrett was joined by the Harlem, Hononegah and Belvidere superintendents and private advocates including the League of Women Voters.
"Senate Bill 1 is a win for the entire state and will be an historic fix for Illinois' long-broken funding system." Harlem School Superintendent Julie Morris said.
State Senator Steve Stadelman said he expects the Illinois Senate to easily override Rauner in a special session Sunday. But for the House to follow suit, a handful of Republicans must cross the aisle and reject the governor's amendments.
"There are over 100 changes that I would argue amounts to a complete rewrite of the bill and possibly an unconstitutional overreach," Stadelman said.
Listen to Senator Stadelman's full remarks

HoopStars moves to Sports Factory

Premiere venue offers quicker pace for tourney and room to grow
State Senator Steve Stadelman is again expanding his popular Labor Day basketball tournament, this time by moving to UW Health Sports Factory where boys and girls can compete in air-conditioned comfort and practice on warm-up courts.

Shorter waits between games also are expected when the 3-on-3 tournament crosses over from Davis Park, its home for three of the last four years. The event has drawn as many as 400 players in 3rd through 8th grades.

There is no cost to enter. Registration is open until Sept. 1 at www.senatorstadelman.com/hoopstars.

"Part of me will miss the street-tournament feel of being outdoors, but the benefits of a brand new, marquee facility right across the Rock River are undeniable," Stadelman said. "Without the continued support of the Rockford Park District and faithful financial contributors like ComEd and Comcast, this positive, end-of-summer activity for kids simply wouldn't be possible."

Stadelman said the event, which started in 2013 at Patriots Gateway, had outgrown the 10 makeshift courts at Davis Park. With 16 courts now available, total play time in the single-elimination, two-game-minimum tournament should drop to four or five hours from six or more. Parents will find parking much easier, among other advantages of the new location.

All players receive free commemorative event T-shirts, and winning teams take home medals. Event sponsors operate interactive courtside information booths with giveaways, and refreshments are available for purchase.
Games start at 1 p.m. Sept. 4 with doors opening at noon.
Category: Week in Review