Published: Friday, November 03, 2017 05:21 PM
Veterans can get "quick certification" for special driver's licenses at Stadelman event
Military veterans who wish to obtain Illinois driver's licenses that note their service in the armed forces may obtain the necessary paperwork at a Veterans Day event offered by State Senator Steve Stadelman and the Illinois Department of Veterans Affairs.
Coffee and donuts are being served at the Veterans Day Quick Certification from 2 p.m. to 4 p.m., Friday, Nov. 10, in the Zeke Giorgi Center Lobby, 200 S. Wyman St.
To receive a driver's license with "VETERAN" appearing below the signature line, veterans must present official certification of their military status when renewing their license or applying for a state ID. Under legislation passed by Stadelman in 2015, veterans who present a driver's license with the designation qualify for discounts on purchases at participating businesses. The designation is also available on state identifications cards.
"Veterans can avoid the delay of a mail application or a trip to the Illinois National Guard Armory in Machesney Park," Stadelman said. "Providing this convenience is a small way to honor vets, especially those who live in or near downtown Rockford and tend to have a harder time accessing services."
Two state Veteran Service Officers, Matthew Taylor and Jessica Parker, will certify proper documentation of military service -- DD Form 214 or NA Form 13038. Veterans, especially reservists who need additional paperwork, are advised to review documentation requirements online at www.Illinois.gov/veterans before attending the event, although assistance in obtaining necessary paperwork will be available on site.

Senate reaffirms support for students, workers
The Illinois Senate rejected several gubernatorial vetoes last week, reaffirming their support for college students, collective bargaining and entrepreneurs.
Senator Steve Stadelman voted in favor of all three overrides:
• Collective Bargaining Freedom Act to protects worker rights by blocking Gov. Bruce Rauner's campaign to create municipal right-to-work zones that favor corporate profits over worker interests.

• The entrepreneur learner's permit program, a pilot initiative to encourage business growth by reimbursing first-time business owners in information services, biotechnology and green technology for some costs of state licensing and permits. In an amendatory veto, the governor removed a spending cap and expanded the program to all industries, which Stadelman and others believe would turn a smart business development into a potentially wasteful program.
• Student Loan Bill of Rights , a measure that will help to protect college students from predatory lenders when they borrow money to pay for their education.
The Senate returns to Springfield next week for the second half of the fall veto session.
Citizens Utility Board advises TV consumers on viewing options in the Internet Age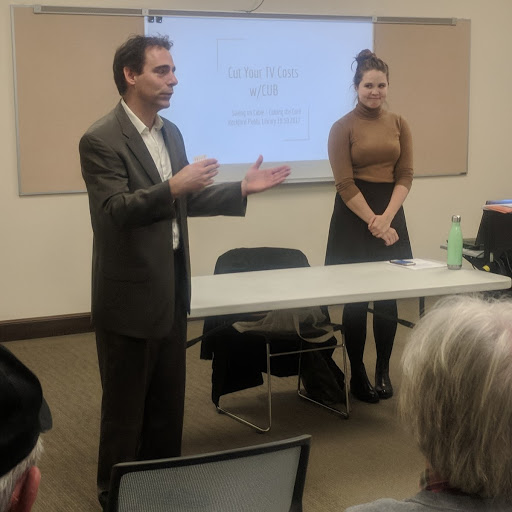 Pay-TV consumers received tips for making their cable bills more affordable and learned the pros and cons of market alternatives like satellite and web streaming at a free presentation led by an expert from the Citizens Utility Board. Senator Steve Stadelman invites CUB to work one-on-one with utility customers to lower their bills at twice-yearly clinics; this week's event marked the first time CUB has offered advice on television costs to Rockford-area consumers. Those who missed the presentation can order copies of "CUB's Guide to Cutting Your TV Costs" online.
Category: Week in Review