Published: Friday, April 20, 2018 03:39 PM
Stadelman stands up for hungry students
In school districts across Illinois, students who are unable to pay for lunch can be stigmatized with a special wristband or hand stamp and even denied lunch. To stop this practice known as "lunch shaming," State Senator Steve Stadelman passed Senate Bill 2428 through the Illinois Senate Education Committee this week.

"Lunch shaming punishes kids for the mistakes of their parents," Stadelman said. "All students, no matter what their background or parents' income level, deserve to eat. In some cases, this may be the only hot meal a student eats all day."

Under Stadelman's proposal, every school will be required to provide a meal to a student who requests one. While the school can contact the parents directly to request they pay for children's lunches, the school cannot throw out meals, force students to wear wristbands or otherwise stigmatize them. If parents owe $500 or more and a reasonable effort to collect the debt has been made, the school district can request the Illinois Comptroller withhold tax refunds to parents to pay off the debt.

"The top priority of our schools is to educate our children," Stadelman said. "Forcing hungry children to sit through class makes it nearly impossible for them to focus and could have a long-term impact on their education."

Stadelman's bill passed in committee on a vote of 9-2-1 and now heads to the Senate floor for a vote.

Senate passes Equal Rights Amendment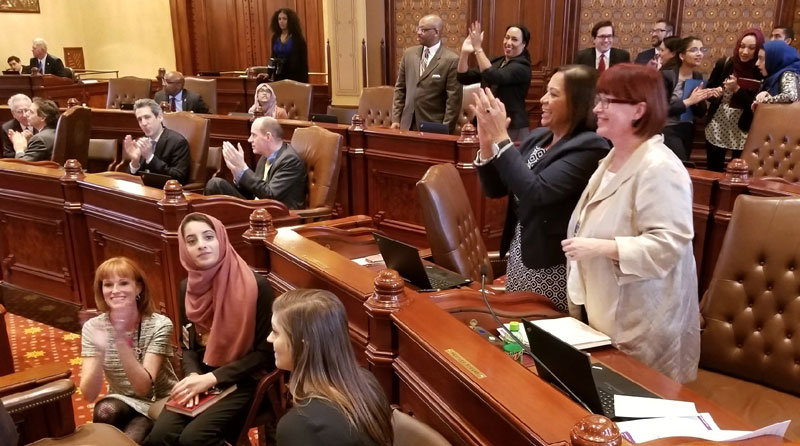 After a nearly 50-year-long battle, the Illinois Senate took a historic vote to ratify the Equal Rights Amendment to the U.S. Constitution and solidify equal rights for all. Introduced in Congress in 1923 and sent to the states for ratification 46 years ago, the ERA declares that equality of rights will not be denied by the United States or any state on account of sex.

"In voting to ratify the ERA, Illinois lawmakers are listening to and standing up for women across the state who are demanding action that is long overdue," State Senator Steve Stadelman said in support of the measure. "The ERA cements legal protections for women that otherwise are subject to shifting political winds in the White House and on Capitol Hill."

Several advancements for women's rights, such as the Equal Pay Act and Title IX, could be repealed by a majority vote in Congress. The Executive Branch could also reduce enforcement of these acts.

Currently, 36 states have voted to ratify the ERA, with Nevada being most recent. To be ratified to the Constitution, 38 states must approve the amendment. Illinois' legislation now moves to the House for further consideration. For Illinois to ratify the ERA, three-fifths of House members must vote in support.

The Illinois Senate Women's Caucus also gave the Equal Rights Amendment its support at a press conference before the vote, the first piece of legislation to earn the bipartisan group's backing. Watch the press conference HERE.

Stadelman bill to increase transparency on car rental agreements advances
In response to the proliferation of cashless tolls, State Senator Steve Stadelman has advanced a proposal that offers protection for rental car drivers. After returning a rental car, many drivers may be surprised to find they were charged additional fees for a tollway collection device, similar to an I-PASS. Stadelman won committee approval this week for legislation to allow drivers to opt-out of using these devices.

"Drivers deserve to know up front what they are paying for, instead of finding out when it is already too late," Stadelman said.

Under Stadelman's proposal, rental car companies must allow renters to opt-out of the tollway collection device. The company also must post the terms and conditions in the rental agreement and in a visible location in the business. If a company fails to offer a customer the ability to opt-out, the fees are capped at $2 per day that the device is used, in addition to the cost of the tolls.

"Many people may not be aware they can avoid these costly fees by using their own transponders, paying cash or paying the fees online," Stadelman said. "This additional level on transparency can only benefit consumers."

Stadelman's proposal, Senate Bill 2522, passed through the Illinois Senate Commerce and Economic Development Committee with a vote of 7-2-1. It will now head to the full Senate.

• Video of Senator Stadelman commenting on legislation
Category: Week in Review