Published: Friday, September 22, 2017 03:23 PM
Governor signs four Stadelman bills into law
New Stadelman law protects patients from missing vital medications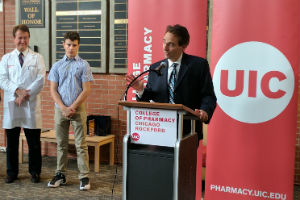 Illinois pharmacists now have the discretion to dispense vital medication to patients when a refill isn't immediately available through a doctor under a law signed by Gov. Bruce Rauner.
Stadelman discussed the legislation at a news conference Thursday at the University of Illinois College of Pharmacy in Rockford. Senate Bill 1790 gives pharmacists the ability to refill a doctor's prescription in emergencies when the pharmacist believes disrupting medication would harm the patient.
Joining Stadelman for the announcement was his son Nikolas, a Type 1 diabetic whose close call while on a family vacation at Yellowstone National Park provided the impetus for the legislation. Nikolas Stadelman, a Guilford High School sophomore who was 13 at the time, recounted how he coped without insulin for 36 hours when his parents' best efforts to refill his prescription over the weekend were unsuccessful.
"I swam and did push-ups to try to lower my blood sugar," he said. "I know I'm not the only one who has gone through an emergency like this."
Stadelman praised the Illinois Medical Society and Illinois Pharmacy Association for helping draft legislation that addressed industry concerns and put patients' interests first and spare others the worry and possible medical jeopardy of going without critical prescriptions. Safeguards in the new law include:

• Emergency refills only can be issued at a pharmacy that has previously dispensed a prescription for the same patient and same medicine.
• Pharmacists must determine that a disruption of the medicine would be medically harmful or painful for the patient.
• Controlled substances are excluded and refills cannot be issued for a period longer than 30 days.

"Pharmacists are essential members of the patient's health-care team," said Garrett Reynolds, a practicing pharmacist and association executive director. "SB1790 recognizes the pharmacist's vital contribution in the patient-pharmacist-physician partnership."
Governor signs Stadelman bill preserves tax incentive for redevelopment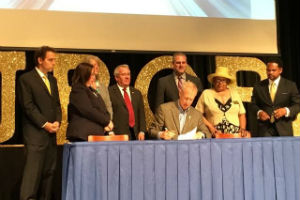 State Senator Steve Stadelman traveled to Aurora to attend a bill signing to continue the popular River Edge Historic Preservation Tax Credit until 2022. Sponsored by Stadelman, the legislation protects an important economic revitalization tool for downtown Rockford. Gov. Bruce Rauner's signature extends the program for four years beyond its current expiration Jan. 1, 2018.
Aurora is one of four cities besides Rockford to benefit from the credit, equal to 25 percent of the costs for a business to rehabilitate an historic building. Peoria, Elgin and East St. Louis are also included in the River Edge legislation. In Rockford, the tax credit has helped make possible numerous urban redevelopment projects including the $12 million transformation of the Prairie Street Brewhouse.
"The River Edge tax credit turns vacant buildings into marketable properties and creates jobs," Stadelman said. "In this era of hyper-partisan tension, it is reassuring to see overwhelming bipartisan support for a measure that spurs economic growth in places like downtown Rockford."

Stadelman 'right to Yelp' measure becomes law

Legislation protecting the rights of consumers to leave honest online reviews of products and services without fear of retaliation has been signed into law Gov. Bruce Rauner.
The measure, sponsored by Senator Steve Stadelman, prevents companies and service providers from enforcing non-disparagement clauses included in sales contracts. Such clauses typically include language that prohibits consumers from leaving negative feedback about the retailer. Oftentimes, particularly online, a consumer must accept the terms of a contract before completing a purchase.
"Although I understand that businesses don't want to be unfairly criticized, it is important to protect the right of the consumer to voice their opinion," Stadelman said. "In many cases, people might not even realize they signed a non-disparagement agreement until a company takes action against them."

With this law, Illinois joins two other states – California and Maryland – in banning non-disparagement clauses.
Abuse victims get ability to switch phone plans under new Stadelman law

Domestic violence victims to continue using their cell phone plans after separating from their abusers under a bill sponsored by State Senator Steve Stadelman and signed into law by Gov. Bruce Rauner.

As a result, abuse victims now can ask a judge for the right to continue use of a phone number as part of a petition for an order of protection. If granted, wireless providers will be required to give control of joint cellular accounts to the victim. Similar legislation was recently enacted in California, Missouri, Indiana and Wisconsin.

"One of the reasons people stay in abusive relationships is financial dependence," Stadelman said. "As we know, cell phones have become nearly essential in modern life. This legislation removes the roadblock of having to find money to set up a new phone plan, so women or men leaving abusive situations can more easily find housing and employment can keep their photos, addresses, contacts and emails"
.
WATCH VIDEO of Senator Stadelman discussing the legislation.
Category: Week in Review