Published: Thursday, October 03, 2019 03:08 PM

Second summit to provide second chances for people with criminal records
People who are eligible to have criminal records sealed or expunged can obtain a free attorney to prepare their case to go before a judge at State Senator Steve Stadelman's Second Chances Summit II from 9 a.m. to 3 p.m. Nov. 1 at the Nordlof Center in downtown Rockford.

To sign up for the free legal consultation, visit www.senatorstadelman.com or call 815-987-7557.
Registration, which opened after Labor Day, closes Oct. 7, Stadelman announced during a news conference today. Stadelman said that ever since the 2018 summit, when 130 individuals met one-on-one with volunteer attorneys, he has continually received requests to offer the one-day opportunity again.
Included as part of the summit this year is a presentation by Winnebago County State's Attorney Marilyn Hite Ross, "Cannabis Clemency: Illinois' New Law Legalizing Marijuana." Many lower-level marijuana convictions can be removed from people's records after retail sales become legal in January 2020. Hite Ross' talk from noon to 12:45 p.m. is open to the general public; advance registration is not required.
"Many well-meaning men and women in our community find that a past transgression, often from their youth, prevents them from obtaining living-wage employment and adequately supporting themselves and their families," Stadelman said. "Illinois law allows people who meet certain criteria to seek judicial relief, and we all benefit as a result."
Stadelman was joined at the news conference by event partner Prairie State Legal Services. Wendy Crouch, pro-bono coordinator for the nonprofit agency, encouraged local attorneys to contribute their time and expertise. Prairie State provides event training that volunteer attorneys can be use toward the state's continuing education requirements for lawyers.
"Having a criminal record can have far-reaching impact, even restricting a parent's ability to fully participate in their child's life, Crouch said. "Prairie State Legal Services is excited to again partner with Senator Stadelman to help all those who are eligible to clear their records and move foward."
Interested attorneys can enroll in the training session online at www.senatorstadelman.com or by calling 815-985-2902.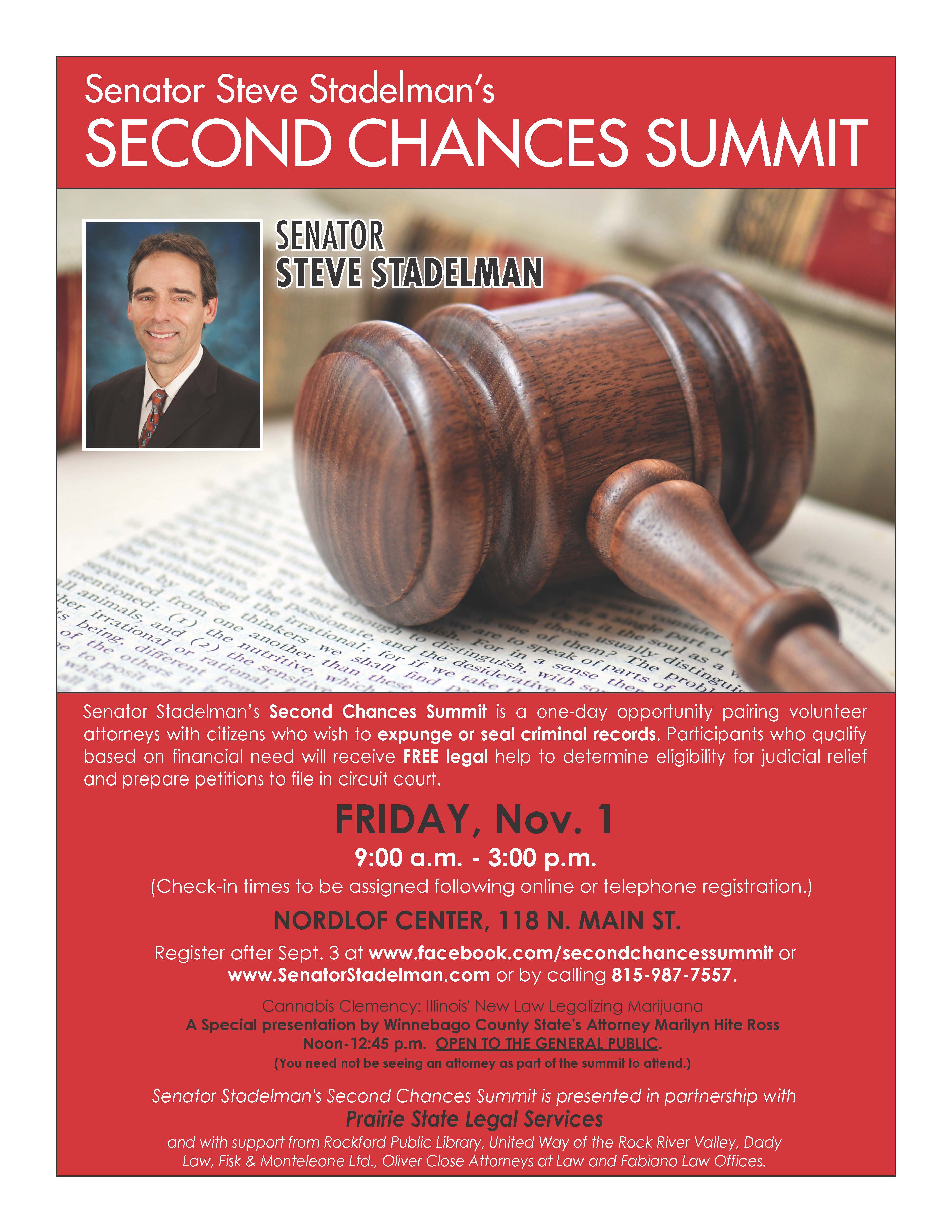 Category: Latest