Published: Tuesday, August 16, 2022 09:34 AM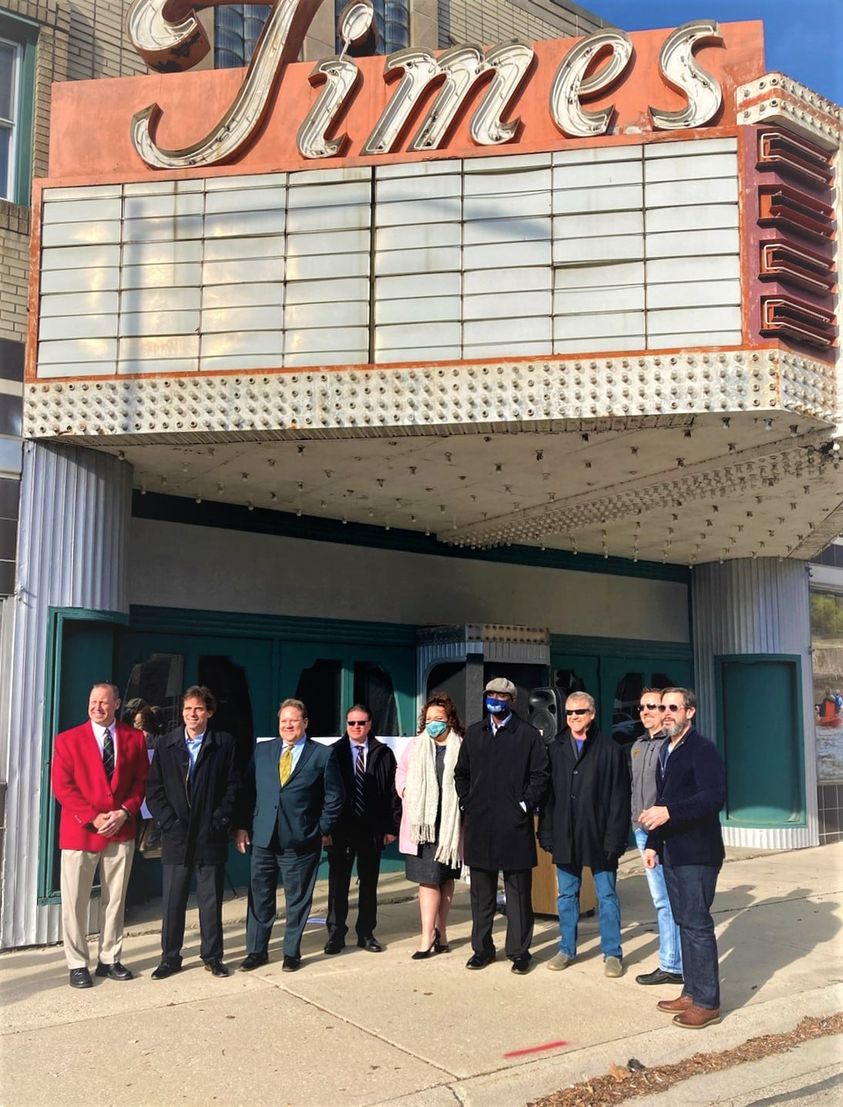 ROCKFORD -- State Senator Steve Stadelman announced today that more than $5 million in state funding is headed to downtown Rockford to help restore the historic Times Theater and reconstruct Madison Street from the City Market Pavilion to Prairie Street Brewhouse.
"The ongoing redevelopment of downtown Rockford is important to the economic growth of the entire region, and this funding focuses on another two key assets in the mix of critical public and private projects over the last 20-plus years," Stadelman said of the Rebuild Downtowns & Main Streets Capital Grant awards.
GT Partners LLC, a subsidiary of Rockford-based Joseph James Partners, will use its $3 million Main Street award toward a $15 million restoration of the long vacant Times, built in 1938. Plans are to host live performances and films for audiences of 600 to 900, filling a mid-size gap between the landmark Coronado Performing Arts Center and the Nordlof Center stages north and south of the Times, respectively, on Main Street.
"On behalf of our team, a big thank you to Governor Pritzker, Senator Stadelman and DCEO for awarding our full grant request of $3 million. The west side of downtown along Main Street. has long been the cultural corridor of our community, and this investment will enhance that further by bringing back to life not only a historic but very relevant asset in terms of the theatre's capacity and uses," said Peter Provenzano, President and CEO of Joseph James Partners. "This would not have been possible without 1,330-plus signatures to our change.org petition, many positive statements and numerous letters of support to renovate this jewel of the Rockford region."
More than $2 million is slated for a comprehensive upgrade of Madison street that includes resurfacing, underground water system updates, pedestrian and bicycle facilities and streetside beautification.
"We are very grateful to Governor Pritzker and Senator Stadelman for awarding the City of Rockford more than $5 million in DCEO Rebuilding Downtowns and Main Streets grants," Rockford Mayor Thomas P. McNamara said. "More than $3 million will go towards renovating the historic Times Theater and $2 million will go towards Madison Street corridor improvements including, resurfacing Madison Street from E. State Street to Prairie Street, replacing over 10-year-old water main, sidewalk and bicycle land improvement and streetscape improvements."
Administered by the Illinois Department of Commerce and Economic Opportunity, the Main Streets program provides financial support for commercial corridors and downtowns that have experienced disinvestment, particularly in communities hit the hardest during the COVID pandemic.
Stadelman emphasized the significance of Rockford receiving two Main Street grants in a highly competitive statewide selection process.
"We successfully made strong cases for both projects," Stadelman said. "Creating spaces for the arts to thrive is essential to a community's quality of life, and a repurposed Times Theater further diversifies our entertainment options along Main Street. With the adaptive reuse of the Prairie Street Brewhouse, expansion of the Italian cultural clubs and the ongoing popularity of City Market and the riverfront YMCA, Madison Street is becoming an equally strategic corridor.
###
Category: Press Releases