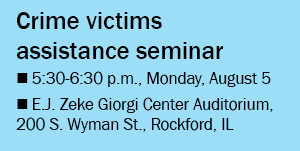 ROCKFORD – Most people probably don't know that Illinois reimburses victims of violent crimes for medical bills, lost wages and other out-of-pocket expenses.
Learn about the many services available to crime victims and those who work with crime victims at a free seminar sponsored by State Senator Steve Stadelman.
Stadelman's guest speaker is Cynthia M. Hora, chief of the Crime Victim Services Division for the Illinois Attorney General's office. She will explain various state programs and answer questions at the seminar, which is free and open to the public.
"It is important that offenders receive the harshest punishment under the law," Stadelman said, "but it is also important that victims and their families receive the support they need to rebuild their lives and regain peace of mind."
Among the programs that Chief Hora will review are:
Category: Press Releases