Published: Thursday, May 03, 2018 04:43 PM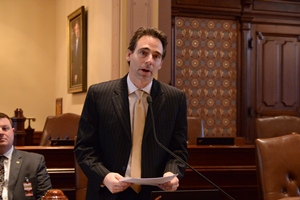 SPRINGFIELD – State Senator Steve Stadelman (D-Rockford) passed legislation through the Illinois Senate to prevent privately-owned websites from charging a fee to remove mugshots and other outdated information.

These websites, which claim to operate as background checks, frequently charge thousands of dollars to remove the information, even if the record has been expunged, sealed or dismissed. In some cases, the website refused to remove the information even after the individual was acquitted.

"Forcing people to pay thousands of dollars to remove wrong information from a private website is wrong," Stadelman said. "Many of these people have had their records sealed or expunged, or even had their case dismissed. It's time to stop these private website owners from taking advantage of them."

In many cases, individuals weren't even aware their information was listed on the website until they were denied a job opportunity.

Stadelman's proposal, Senate Bill 2560, passed through the Illinois Senate with a vote of 52-2. It is now in the Illinois House of Representatives.
Category: Press Releases