Published: Tuesday, April 26, 2016 01:54 PM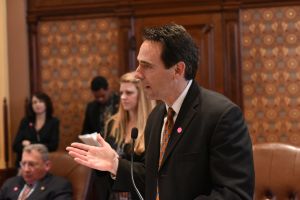 SPRINGFIELD – State Senator Steve Stadelman (D-Rockford) advanced legislation through the Senate last week to require local governments to change the auditors they use to review their finances every five years.
Over the years, government employees in Dixon, Chicago and Winnebago County have been investigated for stealing millions of dollars in taxpayer funds.
"Too often, we have seen auditors fail to identify fraud and abuse within the governmental bodies they are supposed to be auditing," Stadelman said. "This legislation will help prevent a cozy relationship between the auditors and local governments by requiring a new set of eyes look over the books every five years."
Under Stadelman's proposal, Senate Bill 2270, counties, municipalities, townships and other bodies of government would have to accept competitive bids on auditing contracts every five years.
If signed into law, Illinois would also join the state of California to require local governments to rotate auditors every five years.
The legislation passed the Senate with a bipartisan vote of 37-15 and will now head to the Illinois House.
Category: Press Releases