Published: Wednesday, August 12, 2015 10:31 AM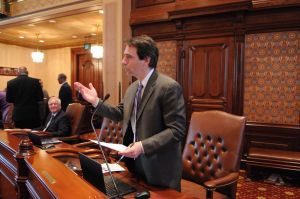 SPRINGFIELD–Children in foster care are some of the most vulnerable citizens in Illinois, placed through no fault of their own in difficult situations where their parents aren't able to provide for them.
In Illinois alone, nearly 18,000 children are in foster care and too many receive less than ideal treatment. House Bill 3684, which was passed by State Senator Steve Stadelman (D-Rockford) and signed into law today, looks to change that.
Stadelman's legislation creates the Foster Children's Bill of Right, which provides certain guarantees for every child placed into a Department of Children and Family Services foster care program. These rights include freedom from abuse, a safe home and to adequate food and clothing.
"Too often, we hear about vulnerable foster children being abused or being forced to go without care for days at a time. I commend Governor Rauner for signing this legislation to ensure foster children in Illinois will have the right to a good home and adequate care," said Stadelman.
Illinois will now join 15 other states that currently have a Foster Children Bill of Rights in place.
Category: News